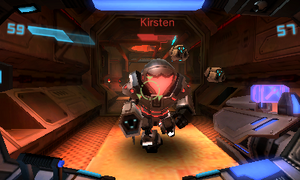 An AI Combat Drone is a computer-controlled drone of the Federation Force in Metroid Prime: Federation Force. The game is focused on co-operative play between up to four players, but this may not always be possible for certain players, or they may prefer to play the game alone. AI Combat Drones enable them to have company if they choose that are controlled by AI and can assist them in missions. This is entirely optional, however, and the player can choose to play completely alone if they wish. However, Kensuke Tanabe, the game's producer noted that playing completely solo may cause the missions to become more difficult as the mission difficulty is always balanced toward four players.[1] MODs can be used to enhance the capabilities of these drones, such as Drone Plating and Assault Drones.
Official data
Edit
DRONE ALONE

"Metroid Prime: Federation Force features multiplayer support up to four players in campaign mode, but even if you're a lone wolf, you don't need to fight alone in Solo Mode. Instead, you can equip three heavily-armed drones that hover near you, offering a little extra support when you need it."
In-game description
Edit
"A deployable drone that provides aid in combat. Works without Marine input."
References
Edit
Ad blocker interference detected!
Wikia is a free-to-use site that makes money from advertising. We have a modified experience for viewers using ad blockers

Wikia is not accessible if you've made further modifications. Remove the custom ad blocker rule(s) and the page will load as expected.