"
Sorry for keeping you waiting Adam. Let's go home.
"
Commander Adam Malkovich's helmet is the headgear that the Galactic Federation commander wears when in his battle armor. His helmet is identical to that of his soldiers, as it is blue in color, with a 07 logo on the forehead and the nape of the neck, and red emblems on the sides, as well as a yellow visor that can be lifted up.
At the beginning of Metroid: Other M, Adam can be seen wearing the helmet like the rest of his team. However, as he briefs the group, he can be seen with it off. He took it off and left it beside his communication device as he briefed the team. When racing to Sector Zero, he left the helmet behind.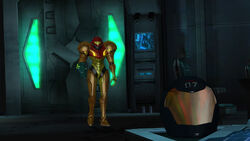 Adam later died in the sector. Days after the incident, Samus Aran returned to the BOTTLE SHIP to "rescue something that can't be replaced." Samus was forced to take a detour as the Elevator that would take her to the BOTTLE SHIP Control Room's top floor was not working. She quickly took the alternate path and reached her goal before the station's destruction. She removed her Power Suit and held the helmet in a tender moment. During the five-minute countdown, Samus holds the helmet as she escapes in her Zero Suit. As she reaches her Gunship, she turns to the helmet and calls it "Adam", apologizing for leaving "him" behind earlier.
It is unknown what happened to the helmet after Other M, or if it even survived the destruction of Samus's gunship in Metroid Fusion. Adam's mind was somehow preserved for the game in the form of her new computer CO, that turned out to be Adam near the end of the game.
Before the post-credits sequence, there are multiple hints that foreshadow the return for Adam's helmet:
Although he is seen wearing it at the beginning of the game, his profile in the Characters sub-menu shows him with his helmet off in his mugshot;
During the briefing, Adam is not wearing it;
And finally, as stated, he left it behind when rushing off to Sector Zero.
Ad blocker interference detected!
Wikia is a free-to-use site that makes money from advertising. We have a modified experience for viewers using ad blockers

Wikia is not accessible if you've made further modifications. Remove the custom ad blocker rule(s) and the page will load as expected.