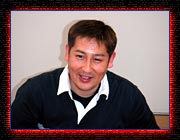 Akira Otani is an employee of Nintendo that produces games developed outside of NCL, such as the Mario & Luigi subseries and Wave Race: Blue Storm. Otani was the coproducer of Metroid Prime alongside Kensuke Tanabe, and the assistant producer of Metroid Prime 2: Echoes alongside Risa Tabata. Otani was also in charge of PR at NCL for Echoes.[1] In March 2003, the three producers gave an interview to Nintendo Online Magazine about their work with the original Metroid Prime. It was unofficially translated into English by the Metroid Database.[2]
Otani was given the role of director, as the game had no on-site director. Since Retro Studios, the developer of Prime was based in Texas in the United States, Otani and Tanabe had to travel there about 5 times. Otani said he became accustomed to American food with the frequent trips.
References
Edit
Ad blocker interference detected!
Wikia is a free-to-use site that makes money from advertising. We have a modified experience for viewers using ad blockers

Wikia is not accessible if you've made further modifications. Remove the custom ad blocker rule(s) and the page will load as expected.