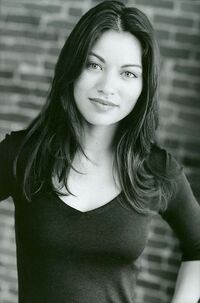 Alésia Toyoko Glidewell (born December 8, 1978 in Hawaii) is an American independent producer and voice actress. She is the founder and owner of Snagbuddy Productions, a Los Angeles-based production company. Glidewell provided the voice of Zero Suit Samus in Super Smash Bros. Brawl, which was Samus Aran's first voiced speaking role in any medium. Glidewell voiced three taunts and one victory pose quip for Zero Suit Samus. These voice clips were reused in Super Smash Bros. for Nintendo 3DS and Wii U. Glidewell is best known as the face and body model of Chell from the Portal series. She recorded all of her lines at Bad Animals.[1]
Additionally, she provided the voices for Knuckle Joe (from the Kirby series) and Krystal (from the Star Fox series) in Brawl. She had previously voiced Krystal and the Aparoid Queen in Star Fox: Assault for the Nintendo GameCube. She is friends with Jessica Martin, who would later voice Samus herself in Metroid: Other M (Samus's first voiced speaking role in a Metroid game). Her other roles include Carmelita Fox, Constable Neyla and Clock-La in Sly 2: Band of Thieves, The Doll Woman in Condemned 2: Bloodshot, Alma Wade in F.E.A.R. 2: Project Origin and F.E.A.R. 3, and Sedna in Demigod. Additionally, she voiced the tutorial and female characters in Mojo Master, and provided motion capture for all female characters in The Matrix Online.
As a producer, Glidewell has worked on such projects as A Trip to Unicorn Island, a Streamy Award-winning documentary chronicling YouTube personality Lilly Singh's world tour. She also worked with Singh on a web series for MAC Cosmetics.
Glidewell is a fan of Blade Runner, Total Recall, Star Wars, Star Trek and The City of Lost Children.