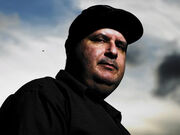 Alexander "Alex" Proyas (born 23 September 1963) is an Australian filmmaker, screenwriter, and producer. He is best known for directing the science fiction films The Crow, Dark City, I, Robot and Knowing. He also directed the live-action commercial for Metroid Prime. [1]
Ad blocker interference detected!
Wikia is a free-to-use site that makes money from advertising. We have a modified experience for viewers using ad blockers

Wikia is not accessible if you've made further modifications. Remove the custom ad blocker rule(s) and the page will load as expected.