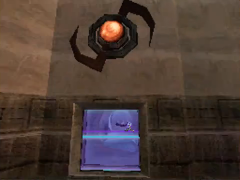 An Alimbic Insignia is a scannable object in Metroid Prime Hunters. Samus finds it in Ice Hive, a room on the planet Arcterra. It is an orange disk in appearance.
Logbook entry
Edit
Alimbic Insignia
Logbook entry
A LARGE CEREMONIAL EMBLEM OF THE ALIMBIC ORDER, CELEBRATING THEIR VICTORIES AND LEADERSHIP. SOLAR-CYCLE COUNTER DATES ITS CREATION AFTER ALINOS FIRST CAME UNDER ATTACK.
Ad blocker interference detected!
Wikia is a free-to-use site that makes money from advertising. We have a modified experience for viewers using ad blockers

Wikia is not accessible if you've made further modifications. Remove the custom ad blocker rule(s) and the page will load as expected.