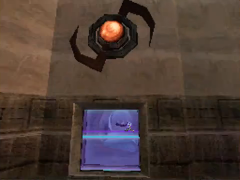 An Alimbic Insignia is a scannable symbol in Metroid Prime Hunters. Samus finds it mounted on a wall in the Ice Hive, a room on the planet Arcterra. It is a large, dark bronze disk set in a larger disk, adorned with a glowing orange center and two tapering offshoots angling in opposite directions. After the ancient Alimbics triumphed in the first attack on Alinos, they created this insignia to commemorate the triumphs of their race.
Logbook entry
Edit
Alimbic Insignia
Logbook entry
A LARGE CEREMONIAL EMBLEM OF THE ALIMBIC ORDER, CELEBRATING THEIR VICTORIES AND LEADERSHIP. SOLAR-CYCLE COUNTER DATES ITS CREATION AFTER ALINOS FIRST CAME UNDER ATTACK.
Ad blocker interference detected!
Wikia is a free-to-use site that makes money from advertising. We have a modified experience for viewers using ad blockers

Wikia is not accessible if you've made further modifications. Remove the custom ad blocker rule(s) and the page will load as expected.