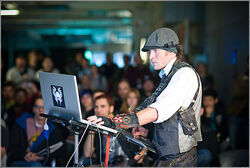 Andrew "Android" Jones is a concept artist and an early adopter of digital art tools. He has worked for ILM, Black Isle Studios, Retro Studios and is currently art director for Massive Black. He was integral to the concepts for well known games like Nintendo's Metroid Prime and Metroid Prime 2: Echoes. Interestingly, his concept art of the Varia Suit and Space Pirate for the first Prime game are extremely reminiscent of the Echoes variants, rather than the ones actually used in Prime. It is likely that these designs were looked at during the production of Echoes, influencing the final designs of the suit and Pirates.
Jones did a 1,000 self-portrait series of himself and later claimed that "my portraits are quite a departure from my metroid concept work, but I think you would be surprised that there are a few of the portraits that were the inspiration behind the final bosses in prime 1 and two." [2]
External links
Edit
Ad blocker interference detected!
Wikia is a free-to-use site that makes money from advertising. We have a modified experience for viewers using ad blockers

Wikia is not accessible if you've made further modifications. Remove the custom ad blocker rule(s) and the page will load as expected.