"
I was at Retro Studios making Metroid Prime 2 and we couldn't find anyone that was bilingual to help me out and I was stuck. Luckily I was able to ask Ikuno-san at Intelligent Systems.
"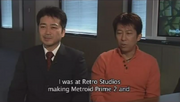 Atsushi Ikuno is an employee of Intelligent Systems. He was an interpretator and coordinator for Metroid Prime 2: Echoes, an assignment he began as a favor to Kensuke Tanabe, who was producing Echoes and needed a bilingual translator. From there the two formed a partnership that led to the development of Eco Shooter: Plant 530, a first-person shooter game for WiiWare. Ikuno was the director of that title, while Tanabe produced it. Most recently, Ikuno was the director of production for Paper Mario: Color Splash. He has also provided voices for WarioWare, Inc.: Mega Party Game$! and WarioWare: Twisted!.
Outside of video game development, Ikuno is a competition marksman, which was an asset in the development of Plant 530.
External links
Edit