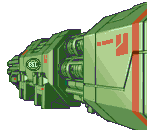 Biologic's vessel is a massive green spaceship owned by Biologic Space Laboratories. It was used in the biological mission on SR388, to study the planet's ecosystem following the extermination of the Metroids. Samus Aran, who accompanied them in her Gunship, was returning with the research team and their captured specimens to the BSL research station. Samus, who had been infected by an unknown parasite on the planet, fell into a coma and crashed into an asteroid belt. She was ejected from her ship in an Escape Pod, which was salvaged by Biologic's vessel. The ship then transported Samus to Galactic Federation Headquarters for treatment. Samus's vital signs steeply declined on the journey, with the vessel's Onboard Medic Simulation predicting a less than 1% prognosis for survival. Notably, it is missing the period at the end of the "BSL" acronym depicted on its hull.
Ad blocker interference detected!
Wikia is a free-to-use site that makes money from advertising. We have a modified experience for viewers using ad blockers

Wikia is not accessible if you've made further modifications. Remove the custom ad blocker rule(s) and the page will load as expected.