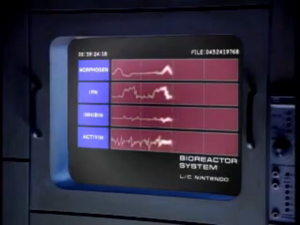 The Bioreactor System is seen very briefly in the Super Metroid commercial on Ceres Space Colony just before the colony is attacked by Ridley, and appears to be giving medical readouts on the Baby being studied.
00:39:24:18 FILE:0432419768
BIOREACTOR
SYSTEM
L/C NINTENDO
Ad blocker interference detected!
Wikia is a free-to-use site that makes money from advertising. We have a modified experience for viewers using ad blockers

Wikia is not accessible if you've made further modifications. Remove the custom ad blocker rule(s) and the page will load as expected.