The Boost Guardian is a Warrior Ing that had absorbed Samus' Boost Ball and subsequently mutated in Metroid Prime 2: Echoes. The Boost Guardian is found in the Dark Torvus Arena.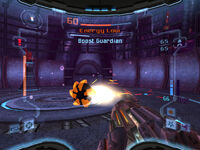 The Boost Guardian has several different attacks. It has the typical abilities expected of a Warrior Ing—slashing, possession, energy beams, and amorphous transformation. In addition, it can also summon Inglets while in puddle form and boost around the room in the form of a spherical ball. In this latter attack, it can destroy any of the four pillars within the arena as well as any Inglet with which it comes into contact.
There are two phases within the battle, the first fighting it as a regular Ing and in its Boost Ball. While in the second phase, the Ing will constantly boost around the room and move about as a puddle. During this time, the Guardian is only vulnerable to Morph Ball Bombs, but immune to any damage. After some point, it will return to phase one.
Logbook entry
Edit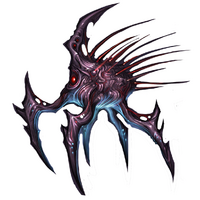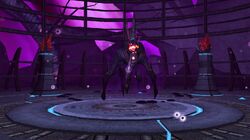 The Boost Guardian is physically identical to the Jump Guardian, the only other Guardian Ing to be fought in its natural state.
If Samus damages the Boost Guardian with a bomb while it is in its ball form, it will immediately revert to its puddle form.
The Boost Guardian is widely considered to be one of the most difficult bosses in Metroid Prime 2: Echoes. This is due to several factors:
Bryan Walker, senior director of development at Retro Studios, claimed that he was never able to defeat the Boost Guardian without going into debug mode. [1]
The Boost Guardian and the Spider Guardian are noticeably easier in Normal Mode of New Play Control! Metroid Prime 2: Dark Echoes and Metroid Prime Trilogy.
The Boost Guardian is the first Ing boss that Samus fights without any accessible Safe Zones. Quadraxis was the second and the Emperor Ing was the third (although by that point Samus has the Light Suit, so Safe Zones are not as imperative). Dark Samus' third battle is also fought without any Safe Zones, although she is not related to the Ing.
In the data of the Metroid Prime 2: Echoes Bonus Disc, the Boost Guardian is named the Boostlet, and is described very differently than its final form.