Boyon
Talk

4
3,442pages on
this wiki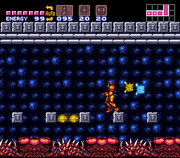 Boyons are yellow, gelatinous creatures that appear in Super Metroid. They appear to be made of an extremely resilient type of mucus-like substance, as it takes several Bombs, Super Missiles and Power Bombs (the only weapons that can harm them) to kill them. They will rest quietly at the bottom of a small hole until something approaches. At that point, they will repeatedly bounce up from their hole until the offending creature leaves.
The Space Pirate leader Draygon spits out projectiles that look like gray Boyons. These projectiles do not harm Samus; instead, they cling to her and decrease her mobility enough for Draygon to grab her.
Boyons greatly resemble the X Parasites seen in Metroid Fusion, but they are not translucent and do not contain glowing nuclei in their centers. In fact, in beta trailers for Fusion, the sprites used for the X are Boyon sprites, recolored purple.
Official data
Edit
"Freeze them in place with the Ice Beam."