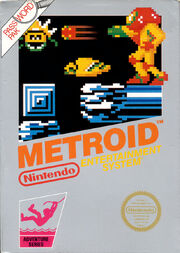 Brinstar (Metroid), as it is named in Jam With the Band, is the name attributed to the original Metroid variant of the theme heard in Brinstar. (Heard here: [1].) It has been remixed many times in games of the Metroid series and other Nintendo licensed games which reference the series.
Arrangements and other portrayals of the theme
Edit
Metroid Prime 2: Echoes Bonus Disc - The original Brinstar theme is used in The Metroid Chronicle; plays while viewing Metroid.
Metroid Prime Hunters: First Hunt - The regulator theme is a remix of the Brinstar theme but includes elements from Record of Samus.
Metroid Prime Hunters - The Regulator theme was remixed into the Opening/Credits theme and the Record of Samus theme was re-arranged.
Metroid Prime Pinball - A metal arrangement plays on the Pirate Frigate table, which returns in Brawl. Pinball also had an arrangement of the Record of Samus theme from Metroid Prime.
Metroid: Zero Mission - A remake of Metroid that has the original theme re-arranged (Heard here: [6]) and also had a faster paced re-arrangement of Brinstar that played after reacquiring the Power Suit in Chozodia (Heard here [7]).
Nintendo Land - An orchestrated version composed by Ryo Nagamatsu is the theme of Metroid Blast missions 2, 3, 6, 7 and 11 (Heard here: [8]).
Samus Archives Sound Selection - The original theme from Metroid is included in this soundtrack, packaged with the Special Edition of Metroid: Samus Returns.
Tetris DS - The Catch Mode in this game is Metroid-themed, and features a remix of Brinstar's theme as well as a level based on it in Metroid. (Heard here: [9])
Jam With the Band - Brinstar (Metroid) (By: Nindori) is one of the downloadable songs available since the initial day of release in the European version. [10]) Because there is no region lock on Nintendo DS games, it can be downloaded from any country, provided the player owns the game. It is #10 on the list of 370 DLC songs, runs for 01:48, and has 7 instrumental parts. (NES1, F. Guitar, NES2, NES3, NES4, NES 5, and S. Drums)
WarioWare D.I.Y.