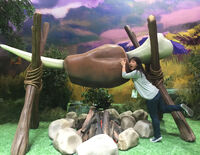 Chiko Bird is the assistant manager of product marketing at Nintendo of America. Bird has worked at Nintendo for over 16 years, first joining in 2004 as a bilingual product specialist. She currently works in Nintendo's Treehouse division in localization. Bird was credited under special thanks in Metroid Prime Pinball and was the bilingual product specialist for Metroid Prime 3: Corruption. She is fluent in English and Japanese, and is notable for her demoing at E3 2016 of The Legend of Zelda: Breath of the Wild.
External links
Edit
Ad blocker interference detected!
Wikia is a free-to-use site that makes money from advertising. We have a modified experience for viewers using ad blockers

Wikia is not accessible if you've made further modifications. Remove the custom ad blocker rule(s) and the page will load as expected.