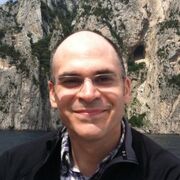 Chip Sbrogna is an American design specialist. Sbrogna was one of only four level designers for Metroid Prime 2: Echoes, and served that role as a contractor for nine months in 2004. In the data of the Metroid Prime 2: Echoes Bonus Disc, the Logbook entry assigned to PFC I. Crany in the final game gives his name as S. Brogna, likely a reference to Chip Sbrogna. Some of his more recent credits include Portal 2, Rise of the Tomb Raider and Star Wars: Galaxy of Heroes.
External links
Edit
Ad blocker interference detected!
Wikia is a free-to-use site that makes money from advertising. We have a modified experience for viewers using ad blockers

Wikia is not accessible if you've made further modifications. Remove the custom ad blocker rule(s) and the page will load as expected.