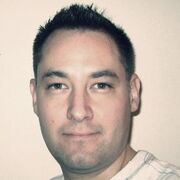 Chris L. Miller is an environment artist, formerly at Nintendo Software Technology, where he worked for a year. The lead environment artist for Metroid Prime Hunters, Miller was responsible for the design and polishing of environment models, textures and lighting. He used MAYA and PhotoShop to great extent, and worked with other level designers to implement puzzles, including those with the Morph Ball, and also to work with item placement, AI paths, and triggers using NST's in-house world editor. Miller previously worked at Humongous Entertainment on several Blues Clues computer games and Backyard Skateboarding. After leaving Nintendo he worked at Sandblast Games on Destroy All Humans 3, at Zipper Interactive on SOCOM 4, and at Signal Studios on Ascend: New Gods. He currently works as the lead artist at King, where he helped to design Paradise Bay for mobile phones.
Metroid rendersEdit
External links
Edit
Ad blocker interference detected!
Wikia is a free-to-use site that makes money from advertising. We have a modified experience for viewers using ad blockers

Wikia is not accessible if you've made further modifications. Remove the custom ad blocker rule(s) and the page will load as expected.