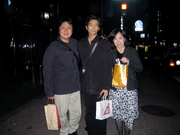 Clark Wen is a freelance audio director and sound designer. Wen owns a sound services company called Exile Sound, which he founded in 2015. He worked as the audio lead at Retro Studios for both Metroid Prime and Metroid Prime 2: Echoes. Wen has most recently worked on several Call of Duty and Guitar Hero games at at Neversoft Entertainment and Infinity Ward. In 2017, Wen revealed that the original Prime was meant to be played without music to maximize the feeling of isolation.[1] Kenji Yamamoto stated that Wen and Scott Petersen were his "best [email] friends" during the development of the Prime series, due to the extensive email exchanges and conference calls they shared.[2]
Comments about Wen
Edit
"
I have rarely met a more dedicated and hard working developer. Clark developed the entire audio package for our product and worked insane hours to get it "just right". He welcomed feedback, actively sought it in fact, and never settled for "good enough". He is a priceless asset and a dedicated craftsman.
"
"
I think that Clark Wen (Lead Sound Designer for Prime 1) did an amazing job of staying true to the 2D Metroid franchise while establishing a new and compelling aesthetic for the 3D Metroid Prime. The game really hit all the right notes from every discipline.
"

—Retro Studios sound team [3]
External links
Edit
References
Edit
Ad blocker interference detected!
Wikia is a free-to-use site that makes money from advertising. We have a modified experience for viewers using ad blockers

Wikia is not accessible if you've made further modifications. Remove the custom ad blocker rule(s) and the page will load as expected.