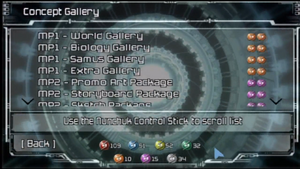 The Concept Gallery is a feature in New Play Control! Metroid Prime, New Play Control! Metroid Prime 2: Echoes, Metroid Prime 3: Corruption and Metroid Prime Trilogy. Similar gallery features appeared in the original Nintendo GameCube versions of the former two, and as unlockable extras in Metroid Fusion (Japanese version only), Metroid: Zero Mission, Metroid: Other M and will appear in Metroid: Samus Returns. The Concept Gallery is where collections of artwork for each game can be purchased and viewed.
All artwork in the Prime series games can be seen here, here and here.
In the Japanese version, there is a Gallery option on the Title Screen that allows every unlocked ending to be viewed. The screen will pan from the bottom to the top of the image, and cycle through, like a slideshow.
Zero MissionEdit
Similar to Fusion, each previously unlocked ending is added to the gallery. The images from Fusion, including the Japan-exclusive ones can also be unlocked via the Game Boy Advance Game Link cable.
CorruptionEdit
The gallery for this game is unlocked upon the first completion, and there are eight pages of concept artwork. More concept art is unlocked depending on the item percentage. To view all gallery images, see here.
Samus ReturnsEdit

The galleries for this game are unlocked after the game is completed for the first time, and if the four Samus Aran related amiibo are tapped on the Nintendo 3DS. These include the Samus amiibo released for the game, and those of Samus and Zero Suit Samus from the Super Smash Bros. for Nintendo 3DS and Wii U series. The gallery will include Samus Returns concept art, a sound test mode and artwork from Metroid II: Return of Samus.
Ad blocker interference detected!
Wikia is a free-to-use site that makes money from advertising. We have a modified experience for viewers using ad blockers

Wikia is not accessible if you've made further modifications. Remove the custom ad blocker rule(s) and the page will load as expected.