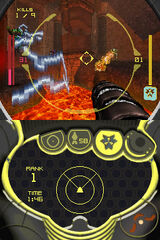 The Council Chamber is actually an enlarged version of the Alinos Perch, rather than a copy of the single-player mode room of the same name, and features as a stage in the Metroid Prime Hunters Multiplayer. The layout is essentially the same as the Perch in single player mode, with a few minor differences in aesthetics due to the multiplayer nature of the battlefield, such as more space and added lava.
The Council Chamber is not available by default. To unlock it, 2 local games must be played.
Ad blocker interference detected!
Wikia is a free-to-use site that makes money from advertising. We have a modified experience for viewers using ad blockers

Wikia is not accessible if you've made further modifications. Remove the custom ad blocker rule(s) and the page will load as expected.