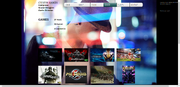 Crispin Hands is a composer, sound designer and audio director for video games, film and television. Hands has also worked in quality assurance for a few games in 1995-1996. He was a contract sound designer for Metroid Prime, his only involvement with a Metroid game to date. Hands has also worked on games produced by Electronic Arts, Relic Entertainment, EA Black Box, BigPark, Rare and Lionhead Studios. Presently, Hands works in Vancouver for The Coalition as the senior sound designer for the Gears of War franchise, and he operates his own sound design company, Lionshead Entertainment.
External links
Edit
Ad blocker interference detected!
Wikia is a free-to-use site that makes money from advertising. We have a modified experience for viewers using ad blockers

Wikia is not accessible if you've made further modifications. Remove the custom ad blocker rule(s) and the page will load as expected.