Crossway Access South is a room in Chozo Ruins in Metroid Prime. It is a narrow, bendy, worn stone passage containing many metal struts and pipes about the walls and ceiling, and a few steam vents. At one point, these create a barrier to anything larger than the Morph Ball, low to the floor. At each end of the room, low down and covered with plant life, is a Morph Ball hole, both connected via a tunnel.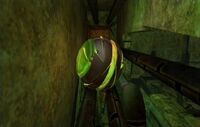 Connecting rooms
Edit
Ad blocker interference detected!
Wikia is a free-to-use site that makes money from advertising. We have a modified experience for viewers using ad blockers

Wikia is not accessible if you've made further modifications. Remove the custom ad blocker rule(s) and the page will load as expected.