Crystal Flash
Talk

12
3,440pages on
this wiki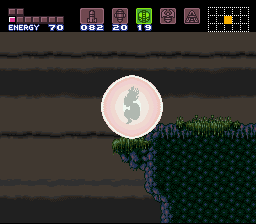 The Crystal Flash is a technique used in Super Metroid to regain health outside Energy Charge stations or Samus's ship. According to the Super Metroid Nintendo Power comic released near the release of Super Metroid[1], when the Chozo adopted young Samus Aran and brought her to Zebes after she was orphaned by a Space Pirate raid on K-2L, they had infused her with Chozo blood, endowed her with the Power Suit, and taught her one of their greatest technological achievements: the Crystal Flash technique embedded in the Power Suit, which could be used as a last resort measure for healing. The technique creates a unique spherical cocoon of energy around Samus, allowing her to absorb all of the energy of the Power Bomb, healing completely if she is at critically low health.
It is performed by following these steps:
Samus must have 50 or less energy, nothing in her reserves, and at least 10 Missiles, 10 Super Missiles, and 11 Power Bombs.
Samus must morph into a ball.
Holding down + aim up button + aim down button (default L and R) + fire button will initiate the Crystal Flash. This will result in Samus rising into the air in a ball of light, suitless, while her energy tanks rapidly refill.
Notes: Power Bombs must be selected for this Technique. Also, the ammo supply will drop as the Crystal Flash is performed.
There is a glitch related to the Crystal Flash that allows Samus to access the Super Missiles that Spore Spawn rewards from the wrong way. [1]
References
Edit