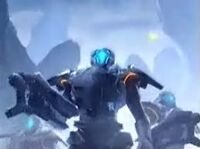 Cylosis is given as Sylux's origin in the opening cinematic of Metroid Prime: Hunters. Since Sylux is surrounded in mystery, it is debatable whether Cylosis is Sylux's actual homeworld, or simply where Sylux stole the armor, Delano 7, Shock Coil, and Lockjaw that the Bounty Hunter uses.
The opening movie cinematic in the game shows a location that may represent Cylosis as a plain and lifeless-looking surface, with blue-gray dust (or possibly snow) storms.
Etymology
Edit
Cylosis is the circulation or streaming of the cytoplasm within some living cells.
Ad blocker interference detected!
Wikia is a free-to-use site that makes money from advertising. We have a modified experience for viewers using ad blockers

Wikia is not accessible if you've made further modifications. Remove the custom ad blocker rule(s) and the page will load as expected.