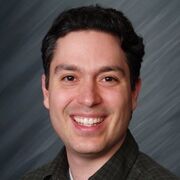 Dante Treglia is a platform development manager at Nintendo of America since 2007. He was previously a lead software engineer and project manager from 1999-2004. In 2002, Treglia was credited under special thanks in Metroid Prime. He returned to Nintendo in 2007 after working at Electronic Arts and Midway Studios the previous three years. Most of his credits are under special thanks, except for NBA Courtside 2002, for which he was an engineer.
External links
Edit
Ad blocker interference detected!
Wikia is a free-to-use site that makes money from advertising. We have a modified experience for viewers using ad blockers

Wikia is not accessible if you've made further modifications. Remove the custom ad blocker rule(s) and the page will load as expected.