Dark Luminoth
Talk

9
3,440pages on
this wiki

Unverified Name
---
This article's title may not represent the official or canonical name.
Verification or an alternate name from an official source is required.
A Dark Luminoth is a presumed name for a Luminoth that has been possessed by the Ing Horde. Many Luminoth, after finding out that the Ing Horde can even possess their own race, had stated that they would rather "self-terminate" or commit suicide than become a weapon for the Ing. Although they are mentioned in Luminoth Lore, they are not actually seen during gameplay as all of them had most likely been terminated.
The New Terror
Edit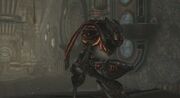 "In time, the Ing began to possess Luminoth as well as creatures. Friends and family members became the enemy, spilling Luminoth blood across the land. Desperate, we devised shielding to prevent Ing possession. It was effective, but not perfect. Should the shielding fail, all Luminoth were prepared to self-terminate, rather than become a weapon for the Ing."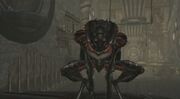 In the E3 2004 trailer for Metroid Prime 2: Echoes, a black-colored Luminoth was seen briefly in the Portal Terminal. It is common misconception that this was an unused Dark Luminoth, however, an interview debunked this rumor by stating that it was an early skin.[citation needed]
Interestingly, there is no evidence of the Ing possessing dead Luminoth (either those killed in battle such as the Keybearers or those who self-terminated when possessed). This is surprising given the Ing's ability to possess the corpses of Federation Marines who landed on Aether. A scan implies, however, that the Luminoth, if they killed themselves to prevent themselves from becoming Darklings, also decomposed their limbs, implying that they made measures to ensure the Ing would not take control of their corpses.