Dark Sphere
Talk

1
3,442pages on
this wiki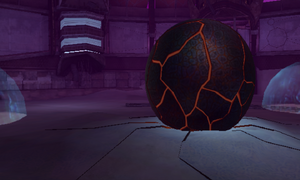 The Dark Sphere is an object that resides in Dark Agon and provides Dark Energy to the Amorbis (which attach and detach themselves from the sphere), resulting in the creatures going through some sort of transformation. Scanning it reveals that it is invulnerable to all weaponry, though it cracks and explodes when the Amorbis is defeated, revealing the Dark Suit.
"Structural analysis complete. Target is a biogenerated power sphere. Sphere provides dark energy to the Amorbis. Xenotech detected in sphere. Sphere is impervious to weapons."
The destruction of the Dark Sphere mirrors that of Zebes in Super Metroid, with the sphere cracking and exploding.