"What's the matter? All I said was that Komaytos look like little Metr—"

---
Non-canon warning
:
This article or section contains information that may not be considered an official part of the
Metroid series
in the overall storyline by
Nintendo
.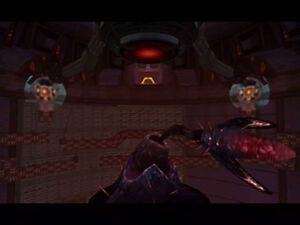 A Dark Sporb is a Darkling creature not used in Metroid Prime 2: Echoes. However, it does technically appear in the game, as the Power Bomb Guardian is a Darkling Sporb.[1]
Unused Logbook entry
Edit
Dark Sporb
Metroid Prime 2: Echoes
Temporary scan
Morphology: Dark Sporb
Darkling possessed carnivorous plant.
Symbiotic merger enhances power of this enemy. Weakness to dark energy gone, replaced by weakness to light energy.
Logbook entry
Eager to possess new bioforms, a number of darklings seized the chance to take the thorny Sporb as a host.
It has proven to be a good match, as Sporb and Ing have similar temperaments.
The Dark Sporb loses its weakness to dark energy, gaining a vulnerability to pure light energy instead.
References
Edit
Ad blocker interference detected!
Wikia is a free-to-use site that makes money from advertising. We have a modified experience for viewers using ad blockers

Wikia is not accessible if you've made further modifications. Remove the custom ad blocker rule(s) and the page will load as expected.