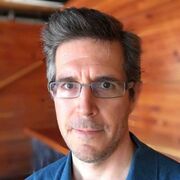 Darren Smith is a product manager and former senior manager at Nintendo of America from 1990-2000, and again from 2003-2011. He is credited under special thanks in Metroid Prime Hunters. During the period of its development, he led product management of online experiences through Nintendo platforms, such as the DS. The multiplayer gaming service used by Nintendo was championed by him, as well as the Nintendo booths at various McDonald's locations. He is currently a freelance product management consultant in the software industry, and the CEO an founder of Amperdex, a product recommendation startup.
External links
Edit
Ad blocker interference detected!
Wikia is a free-to-use site that makes money from advertising. We have a modified experience for viewers using ad blockers

Wikia is not accessible if you've made further modifications. Remove the custom ad blocker rule(s) and the page will load as expected.