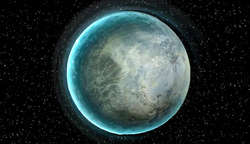 The Dasha region is an area of space within the bounds of the Galactic Federation. The rogue planet Aether belongs in the Dasha region; in a sense, so does its twin, Dark Aether, which was eventually destroyed.
It was here that the GFS Tyr had chased a Space Pirate Frigate, causing it to crash-land on Aether.
Real-world etymology
Edit
Dashā is a planetary period in Indian astrology. The dasha pattern shows which planets will be ruling at particular times in Jyotisha.
Ad blocker interference detected!
Wikia is a free-to-use site that makes money from advertising. We have a modified experience for viewers using ad blockers

Wikia is not accessible if you've made further modifications. Remove the custom ad blocker rule(s) and the page will load as expected.