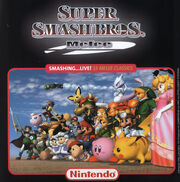 Depth of Brinstar is an orchestrated version of the Brinstar and Brinstar Depths themes from Super Smash Bros. Melee from the Nintendo Power soundtrack album Smashing...Live! as the only Metroid track on the album. The Brinstar Depths theme is played first, followed by Brinstar. It is number eleven on the track listing and has a run time of 3:41. The album was released a year prior to the game in Japan on October 21, 2001, and in 2003 as a gift to subscribers of Nintendo Power and Official Nintendo Magazine.
It can be heard here: [1]
Ad blocker interference detected!
Wikia is a free-to-use site that makes money from advertising. We have a modified experience for viewers using ad blockers

Wikia is not accessible if you've made further modifications. Remove the custom ad blocker rule(s) and the page will load as expected.