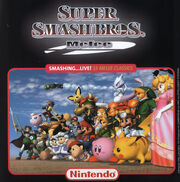 Depth of Brinstar is an orchestrated version of the Brinstar and Brinstar Depths themes from Super Smash Bros. Melee.
Depth of Brinstar comes from the Nintendo Power soundtrack album Smashing...Live! as the only Metroid track on the album. It is number eleven on the track listing and has a run time of 3:41. The album was released a year prior to the game in Japan on October 21, 2001, and in 2003 as a gift to subscribers of Nintendo Power and Official Nintendo Magazine.
In order, the featured tracks are Kraid's Chamber, Silence, Samus Aran's Appearance Fanfare, Title (Metroid), and Brinstar (Metroid). All of these tracks were featured in Brinstar Depths (Melee) and Brinstar (Melee), hence their inclusion in this orchestrated medley.
It can be heard here: [1]