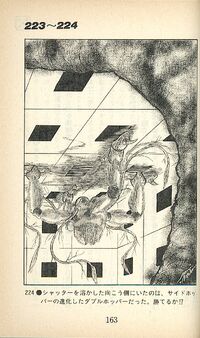 Doublehoppers (ダブルホッパー?) are a subspecies of Sidehopper only featured in the book Metroid: Zebes Invasion Order. A cybernetically-enhanced Sidehopper, this creature has four legs as opposed to a regular Sidehopper's two. Samus encounters it at the entrance to Kraid's room.
It has two different attacks, a normal one which does 5 damage (3 with the Varia Suit equipped), and a stronger one which does 10 damage (8 with the Varia Suit equipped).

"I continued to the next room to another shutter. I melted it with my beam. But just beyond the hole, something lurked... something I had never seen before.
"The command computer began a rapid analysis of the creature. Its shape resembled a Sidehopper. However, Sidehoppers are bipedals, and this creature had 4 cybernetic legs.
"Computer output: This creature is an evolution of Sidehopper, and appears to have been modded. It appears to be a guard to Kraid's room, a cybernetic lifeform. I have labeled it the Doublehopper."