Dynamo Chamber is a room in Temple Grounds. The Splinters have inhabited the room, as seen by the multitude of webs and coccoons. On Samus's first visit a GF Gate Mk VII blocks her way, but can be removed by scanning a nearby terminal. However, this causes two more gates to close behind Samus. Until she obtains the Power Bombs, Samus must go through the area on the top floor.
Connecting rooms
Edit
Inhabitants
Edit
First Visit
Edit
Second Visit
Edit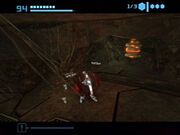 Ad blocker interference detected!
Wikia is a free-to-use site that makes money from advertising. We have a modified experience for viewers using ad blockers

Wikia is not accessible if you've made further modifications. Remove the custom ad blocker rule(s) and the page will load as expected.