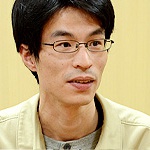 Eisaku Nakae is a Japanese video game programmer, employed at Nintendo since the early 2000s. Most of Nakae's credited games were produced or directed by Yoshio Sakamoto, including Metroid Fusion, WarioWare: Touched!, Tomodachi Collection and its sequel, and Kiki Trick. Nakae programmed the cutscenes (or "cinema scenes") for Metroid Fusion. He is also credited under special thanks in Advance Wars.
Ad blocker interference detected!
Wikia is a free-to-use site that makes money from advertising. We have a modified experience for viewers using ad blockers

Wikia is not accessible if you've made further modifications. Remove the custom ad blocker rule(s) and the page will load as expected.