"
It has been an amazing experience and an incredible honour. We learned a lot from the best, Nintendo. This[sic] days, we often pinch ourselves just in case we are in a dream. Nintendo teams are incredibly supportive. We have been working with the best. I think this explains pretty much everything about how things went during the development. We were very impressed about the devotion, the care, and the quality Nintendo treats the product, and we learned a lot from that. Long time fans are going to be extremely pleased. The game is the result of both, on one hand is a Nintendo game, a Metroid game, and on the other hand, I think people will see the MercurySteam influence.
"

—Enric Álvarez[1]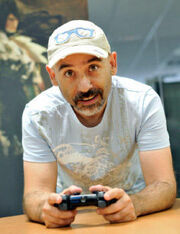 Enric Álvarez, also known as Enric J. Álvarez Benito, is the co-founder and owner of MercurySteam. Álvarez is the executive manager of Metroid: Samus Returns. He has stated that longtime fans would be "extremely pleased" with the game.[1] In a 2016 interview with Eurogamer, Álvarez was asked about the rumored Metroid game MercurySteam was previously developing for Wii U; Álvarez referred to the rumor as "bullshit".[2]
External links
Edit
References
Edit
Ad blocker interference detected!
Wikia is a free-to-use site that makes money from advertising. We have a modified experience for viewers using ad blockers

Wikia is not accessible if you've made further modifications. Remove the custom ad blocker rule(s) and the page will load as expected.