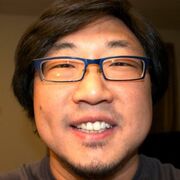 Eugene Kwon is a software engineer who was the senior director of platform development at Nintendo's technology department from 1999-2015. He was credited under special thanks in Metroid Prime and Metroid Prime 3: Corruption. He is also credited under special thanks in Wave Race: Blue Storm, Star Wars: Rogue Squadron II - Rogue Leader and Lair. In NBA Courtside 2002, he is credited as an engineer. Kwon's work is not limited to video games. After leaving Nintendo, Kwon joined Nuna Inc., a Medicaid data platform, as VP of engineering. In April 2016, he became VP of operations. He has also worked as a software engineer for Motorola and an intern for the Environmental Research Institute of Michigan.
External links
Edit
Ad blocker interference detected!
Wikia is a free-to-use site that makes money from advertising. We have a modified experience for viewers using ad blockers

Wikia is not accessible if you've made further modifications. Remove the custom ad blocker rule(s) and the page will load as expected.