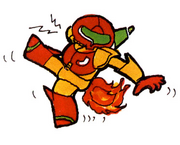 The Fire-Sea is an area referred to in the Captain N: The Game Master comic story, Money Changes Everything, in Norfair.
The room depicted in the comic has floating platforms over a lake of lava, Gamets, and an Energy Tank on a metal pedestal at the end. Such a room does exist on the lower right side of Norfair in Metroid. This room is featured in a minigame in NES Remix 2, where Samus must collect this room's Energy Tank in 100 seconds.
The manual also mentions a Fire-Sea: Face the treacherous fire-sea of Norfair!
"If Samus falls into the fire-sea his energy seeps away. You haven't got much foot-room. The trick is to watch where you land."
Inhabitants
Edit