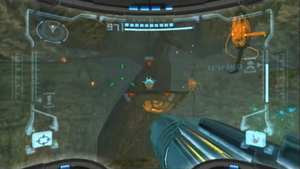 For other uses, see Great Tree (Disambiguation).
The Great Tree is a species of tree in Metroid Prime. They appear throughout the Tallon Overworld, with two rooms being named after them, Great Tree Hall and Great Tree Chamber. Scanning them reveals them to be healthy despite the Phazon contamination on Tallon IV. It may or may not be related to the Cyrlic tree.
Tallon Canyon

"Tree appears to be healthy. Ring dating approximates age at over 200 years."