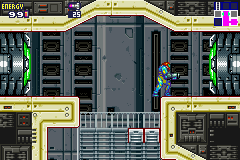 Green Hatches
(Security Level 2) can be found throughout the
Biologic Space Laboratories research station
in
Metroid Fusion
. They are the green colored doors. To open them,
Samus
must find the Level 2 Security Station, located on the left side of
Sector 3
. Once Samus has unlocked the doors, she can freely pass through them like normal doors by shooting them.
Ad blocker interference detected!
Wikia is a free-to-use site that makes money from advertising. We have a modified experience for viewers using ad blockers

Wikia is not accessible if you've made further modifications. Remove the custom ad blocker rule(s) and the page will load as expected.