Hall of the Elders
Talk

2
3,540pages on
this wiki
The Hall of the Elders is a room in the Chozo Ruins area of Metroid Prime. It is an area where Samus encounters Chozo Ghosts, and the location of a Chozo Statue. It is a large, arena-like room surrounded by Holobanners and Radiation Collectors and houses a Morph Ball tunnel to a Missile Station, multiple White Doors and three Bomb Slots. They can each be activated with the Wave, Ice, and Plasma Beams, and when used, the room will alter itself to lead to the Ice Beam, an Energy Tank, and the Artifact of World. There is a force field that can be deactivated allowing Samus easier access. When the room is first entered, Samus will only encounter one Chozo Ghost, but if she returns, there will be three.
Connecting rooms
Edit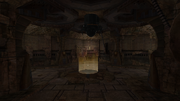 Inhabitants
Edit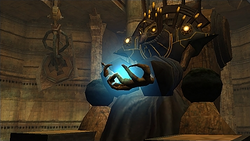 To collect this, Samus must activate the White Bomb Slot then go into Morph Ball in the Chozo Statue's hands.
The theme of the Hall of the Elders was remixed for the Wall Jump minigame in Metroid Prime Pinball.
The Hall of the Golems on Bryyo seems to be highly reminiscent of the Hall of the Elders.
Strangely, fire is seen to be emanating from the statue's eyes while the Ghosts are around. No explanation for this can be given.