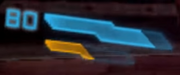 The Hover Gauge is an item of the Heads-Up Display in Metroid Prime: Federation Force. The bar is present under the Energy Meter of the Federation Force Mechs on the top left corner of the HUD during gameplay. It fades into the background when the Marines are moving on foot, but will turn blue like the Energy Meter if they jump. After an initial jump, the Marine can use their Mech's thrusters to slightly ascend through the air for a few seconds before the gauge depletes. The gauge turns orange as it gets closer to being empty, and it will recharge instantly upon returning to the ground. This feature is similar to the Gravity Boost item in Metroid Prime 2: Echoes.
"This will appear when jumping. The
gauge will decrease when hovering.
When the gauge is empty, the Mech
will fall. The gauge will refill over
time."
Ad blocker interference detected!
Wikia is a free-to-use site that makes money from advertising. We have a modified experience for viewers using ad blockers

Wikia is not accessible if you've made further modifications. Remove the custom ad blocker rule(s) and the page will load as expected.