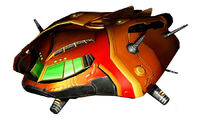 The Hunter-class gunship is a type of craft employed by Samus Aran. Her ship(s) comprise the extent of known examples of this class. The designation is only used in Metroid Prime, Metroid Prime 2: Echoes, Metroid Prime Hunters and Metroid Prime 3: Corruption. However, it may have originated from the Nintendo Comics System, which called her gunship the "Hunter IV".

Logbook entries
Edit
Ad blocker interference detected!
Wikia is a free-to-use site that makes money from advertising. We have a modified experience for viewers using ad blockers

Wikia is not accessible if you've made further modifications. Remove the custom ad blocker rule(s) and the page will load as expected.