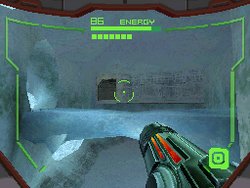 The Ice Bridge is a bridge Samus discovers in the room Ice Hive on Arcterra. It is carved out of ice, and Zoomers can be seen crawling on it.
Logbook entry
Edit
Ice Bridge
Metroid Prime Hunters
Logbook entry
A frozen block carved into an overhead catwalk. A structure capable of holding considerable weight.