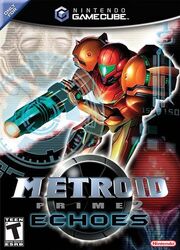 Ing Battle is the theme that plays during a fight with the Ing. It is also used for some boss battles, such as the Sub-Guardians, but does not necessarily play during every battle with one or more Ing. It also plays during cutscenes that involve the Ing in some manner, such as Samus's first encounter with them, the last log for GFMC Task Force Herakles, and the ending. In New Play Control! Metroid Prime 2: Dark Echoes and Metroid Prime Trilogy, the theme can be purchased in the Soundtrack Gallery.
It can be heard here: [1].
Ad blocker interference detected!
Wikia is a free-to-use site that makes money from advertising. We have a modified experience for viewers using ad blockers

Wikia is not accessible if you've made further modifications. Remove the custom ad blocker rule(s) and the page will load as expected.