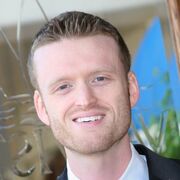 Jacob Duane Johnson is a video game artist and as well as a published author and illustrator of children's books. For the first seven months of 2006 Johnson provided world art on a contract basis for Metroid Prime 3: Corruption, in which he was credited as Jake Johnson. He created detailed Save Stations and interior spaces for the game using Maya, constructed precise game assets and animated background assets "to give life to the levels of each world". Johnson was hired within three months of graduating from college, and worked on the art assets for demos of Corruption at E3.[1] A page on his now defunct website was dedicated to Corruption, with the promise that his environment art was coming soon. In a blog post on April 20, 2011, Johnson stated that he was attempting to acquire his level art from Corruption.[2] Johnson later worked at Cheyenne Mountain Entertainment, FireSky, Dark Comet Games, Jacob Duane Art (his own consulting firm), Pluto Media and Layout Technologies. He is currently working on The Bedsby Tales, a personal project and narrative game for children that he has developed with former DreamWorks contractors.
External links
Edit
References
Edit
Ad blocker interference detected!
Wikia is a free-to-use site that makes money from advertising. We have a modified experience for viewers using ad blockers

Wikia is not accessible if you've made further modifications. Remove the custom ad blocker rule(s) and the page will load as expected.