"
Leave it to me. Shouldn't be a problem to hack into this thing. I mean, it might tell us what exactly was going on here.
"

—James Pierce
James Pierce (ジェイムス・ピアース, Jeimusu Piāsu?) was one of Adam Malkovich's 07th Platoon soldiers in Metroid: Other M.
Description
Edit
James is the team's Communications Expert and has a scar above his left eye. Adam orders him to investigate the Control Bridge.
When the group reaches the BOTTLE SHIP Control Room and encounters a Brug underneath a deceased Lab Worker, Lyle Smithsonian kicks it and shoots it until James instructs him to stop.
As Adam orders everyone to regroup at the Exam Center of the Biosphere, James is the first one to arrive, even though Lyle was first sent to the area. When discovered by Samus, he is seen working underneath a computer. As Maurice Favreau repairs the damaged files on a computer, he asks James to hack it if he cannot bypass the security protocols, although James reassures Maurice that it will "take some time."
Afterwards, James' official status is clouded while he takes on a much more sinister role as a two-faced traitor, known as "The Deleter", stationed within Adam's platoon to undergo a series of plans and operations handed down to him by massive conspirators within the Galactic Federation. (see below).
James is found dead in the Bioweapon Research Center, with his visor broken. Though the exact nature of his demise is not revealed, the amount of damage taken to his armor and body, as well as the expression on his face, hints that his death was far more gruesome than that of his fellow soldiers.
The Deleter
Edit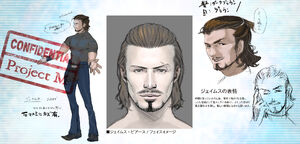 "
How can I trust you when your troops are willing to kill each other?
"
As Other M progresses, it is revealed that the 07th Platoon came with an assassin to kill all witnesses, and destroy all evidence linking the BOTTLE SHIP to the Galactic Federation, including his own team. Samus refers to this assassin as the Deleter.
While the game drops the subplot of the Deleter before it is solved, there is evidence that points to James being the most likely culprit, leaving the player to figure it out on their own.
Evidence supporting James' secret role as the Deleter is as follows:
Known actsEdit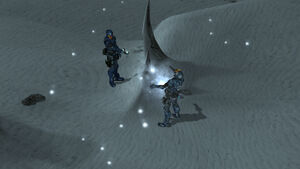 The following is a list of known actions that James Pierce took as the Deleter, supported by cutscenes, processes of elimination, and plain evidence:
SpeculationEdit
Even though most of his actions are definite and seen on-screen, there are many things hinted at, and only hinted at to happening off-screen.
Official data
Edit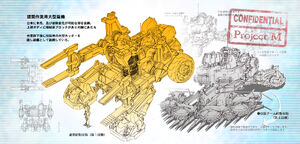 Credentials
Edit
"James Pierce [Communications]
<Battle Code Number>
104
<Service Record>
Galactic Federation Acedemy,
Training Base #6
Federation Central Information Agency,
Intelligence Group 2
Galactic Federation, 07th Platoon
ID: 3721-07:74425"
Beginning

"Investigating the BOTTLE SHIP under Adam's command after receiving the distress signal."
After Brug Mass

"Currently investigating the Control Bridge under Adam's command."
After King Kihunter

"Currently heading toward the Exam Center in Sector 1 under Adam's command."
After first Exam Center cutscene

"Currently investigating the Exam Center under Adam's command."
After Mystery Creature

"Currently investigating the BOTTLE SHIP interior under Adam's command."
After Rhedogian battle #2

"Currently heading toward the Geothermal Power Plant in Sector 3 under Adam's command."
After Main Elevator cutscene

"No information available. Details unknown."
After return to Bioweapon Research Center

"Discovered killed by something in the Bioweapon Research Center."
References
Edit
Ad blocker interference detected!
Wikia is a free-to-use site that makes money from advertising. We have a modified experience for viewers using ad blockers

Wikia is not accessible if you've made further modifications. Remove the custom ad blocker rule(s) and the page will load as expected.