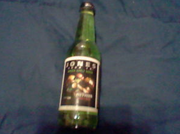 Jones Soda Co. is a beverage company based in South Lake Union, Seattle, Washington that distributes soft drinks, non-carbonated beverages, energy drinks, and candy. Jones Soda is a carbonated soft drink that has many unusual flavors that are not offered by other soft drink makers.
From August 1, 2005 to October 31, 2005, Jones Soda partnered with Nintendo of America to create a bottle that promoted Metroid Prime Hunters. The limited edition labels were featured on blue bubblegum, green apple and fufu berry bottles. To participate in the promotion, one had to collect five bottle caps with letters that spelled J.O.N.E.S. and submit them to have a chance at winning the grand or a first prize.
The grand prize was a flat screen television, a Nintendo GameCube, two Nintendo DS systems, three GameCube games, two DS games as well as a chance to win $25,000 in cash. 75 first prize winners won a Nintendo DS system. [1]
Ad blocker interference detected!
Wikia is a free-to-use site that makes money from advertising. We have a modified experience for viewers using ad blockers

Wikia is not accessible if you've made further modifications. Remove the custom ad blocker rule(s) and the page will load as expected.