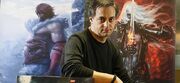 Jose Luis Márquez is a director and writer at MercurySteam, who is the creative director of Metroid: Samus Returns. Márquez was present alongside Yoshio Sakamoto at the Treehouse event on June 13, 2017 where Samus Returns was revealed, and discussed the new features that were added to the game. Before working on Samus Returns, Márquez was also a programmer for games including American McGee Presents: Scrapland, Zombies for Nokia devices, Clive Barker's Jericho and the MercurySteam Castlevania games. Márquez also appeared with Sakamoto at Gamescom 2017.
External links
Edit
Ad blocker interference detected!
Wikia is a free-to-use site that makes money from advertising. We have a modified experience for viewers using ad blockers

Wikia is not accessible if you've made further modifications. Remove the custom ad blocker rule(s) and the page will load as expected.