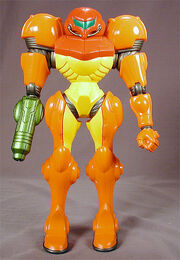 JoyRide Studios was a toy-publishing company. Coinciding with Metroid Prime, they published through Nintendo Power the first-ever figurine of Samus Aran, the main character in the Metroid series of games in the early 2000s. In addition to 12 points of articulation, the figure had two interchangable heads: One for when Samus is donning her helmet, and another for when it is removed.
External links
Edit
Ad blocker interference detected!
Wikia is a free-to-use site that makes money from advertising. We have a modified experience for viewers using ad blockers

Wikia is not accessible if you've made further modifications. Remove the custom ad blocker rule(s) and the page will load as expected.