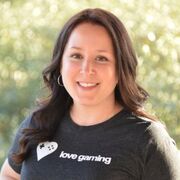 Karen Welford Segars is a video game environment artist based in Austin, Texas. She has been working as an environment artist since 2004. From October 2005 to July 2006, she worked for Retro Studios as a contract artist for Metroid Prime 3: Corruption. She modeled world geometry and props and their animations, created collision meshes, and worked on lighting and texturing using Maya, PhotoShop and Retro's in-house software. After completing her work on Corruption, Welford worked at Midway Studios and Sony Online Entertainment as a senior environment artist for BlackSite: Area 51 and DC Universe Online. Her website features some of her work for the latter game, but not of Corruption. She is currently the lead level architect at Arkane Studios. According to Bryan Walker, a former Retro Studios employee, Segars was a "textbook team player" with a "contagious" "can-do attitude".
External links
Edit
Ad blocker interference detected!
Wikia is a free-to-use site that makes money from advertising. We have a modified experience for viewers using ad blockers

Wikia is not accessible if you've made further modifications. Remove the custom ad blocker rule(s) and the page will load as expected.