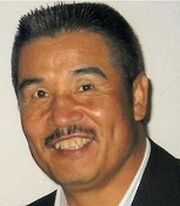 Katsuhisa Hōki (宝亀克寿 Hōki Katsuhisa) is the Japanese voice actor for The Colonel. He also played Kaptain Skurvy in the Donkey Kong Country animated television series, as well as several Pokémon characters[1][2][3] and dubbed Alien characters.[4]
References
Edit
Ad blocker interference detected!
Wikia is a free-to-use site that makes money from advertising. We have a modified experience for viewers using ad blockers

Wikia is not accessible if you've made further modifications. Remove the custom ad blocker rule(s) and the page will load as expected.